>
>
>
ZN300N Portable Outdoor Power Supply 300W
ZN300N Portable Outdoor Power Supply 300W
Brand :ZNB
Product origin :Jiayu County, Hubei, China
1. Pure sine wave inverter output, voltage and current stability.
2. Built-in large capacity, long life, efficient rechargeable power lithium-ion battery.
3. DC multi-voltage output, compatible with a variety of devices at the same time power supply.
4. Supports output by USB and Type-C interfaces and QC3.0 fast charge.
5. Intelligent high-current DC output, supporting all DC loads working at the same time.
6. Digital display screen displays the working status of the device in real time.
7. LED strong light lighting, with a variety of lighting modes.
8. Intelligent battery protection system can effectively prevent over charge, over discharge, over current, short circuit and other problems.
9. Power supply support a variety of charging modes, support solar charging.
10. Small size, large capacity, light weight, easy to carry.
ZN300N Portable Outdoor Power Supply 300W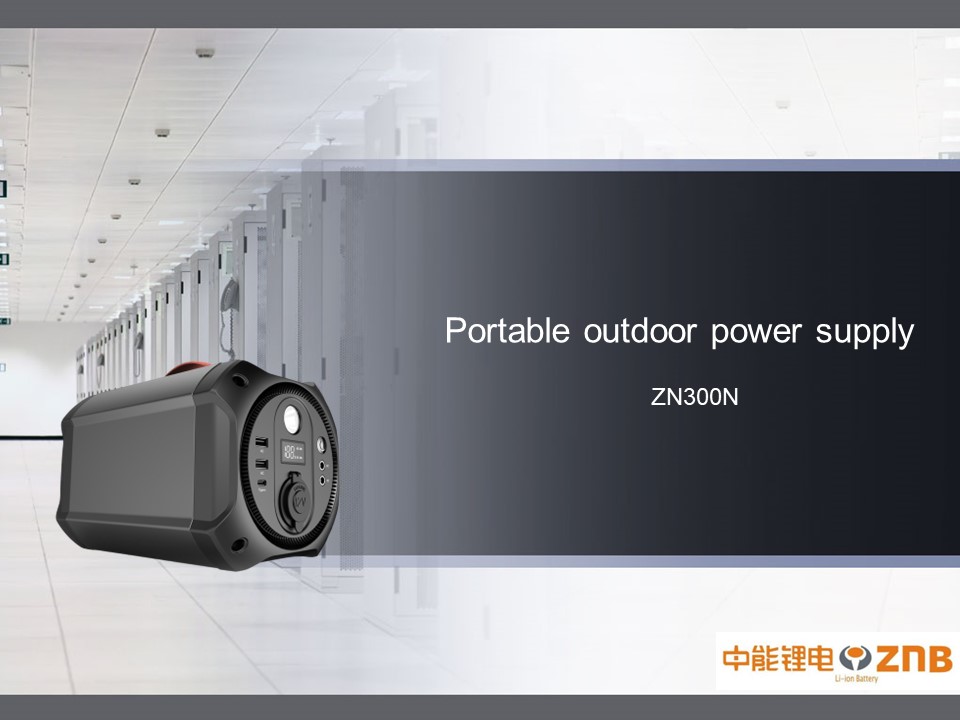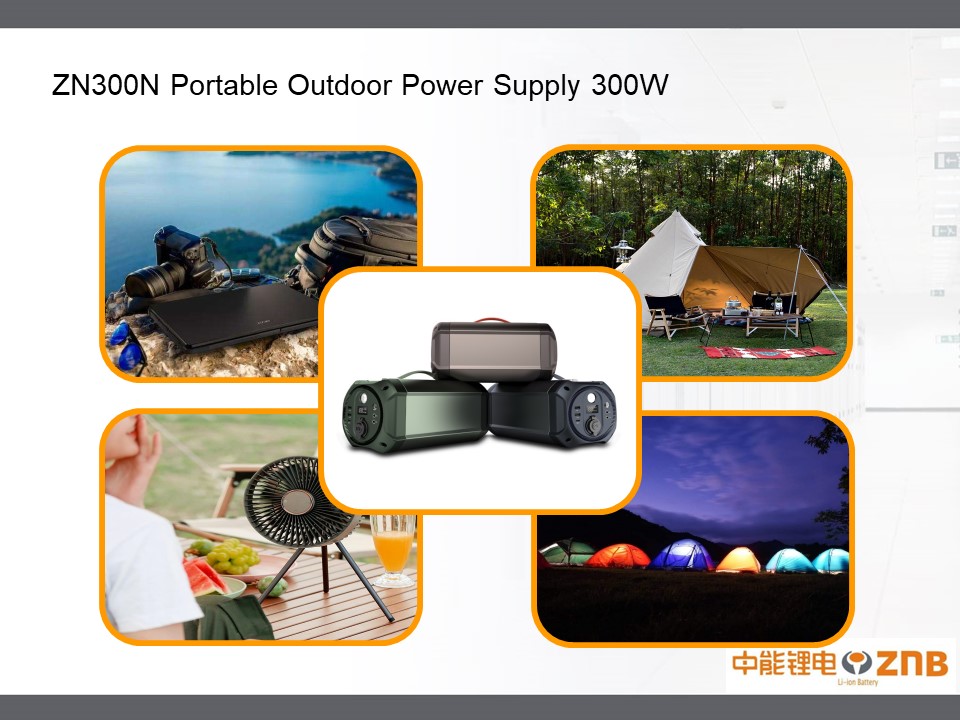 ZN300N Portable Outdoor Power Supply 300W
Product Model

ZN300N

Rated Power

300W

Batter Capacity

283Wh

Battery Type

Lithium -Ion

Charging Methods

AC charge/Solar Charge/ Car Charge

Solar charging input

18V

Adapter charging input

15V3A

USB Output

1xUSB 5V/2.4A

1xUSB 5V/3A 9V/2A 12V/1.5A(QC3.0)

1xType-C 5V/3A 9V/2A 12V/1.5A(QC3.0)

DC Output

12V/5A(x2)

AC Output

120V(x1) Optional 220 v

Car Cigarette Output

100W(MAX)

Adapter charging Time

8h(Optional large current, shorter charging time)

Solar charging Time

Depending on the power of the solar panel

Battery Lifecycle

500@Capacity>80%

Pure Sine Wave

YES

BMS Protection

Over/low temperature、low voltage、short circuit、over load、over charge、over discharge、 internal battery protection

LCD Display

A Power and input and output display

LED Light modes

Floodlight、Flash、SOS

Charge Temperature

0℃-40℃

Discharge Temperature

-10℃-40℃

Material

ABS+AL

Flame Retardant

V0-UL94

Weight

about 4.8kg

Size

310*150*150mm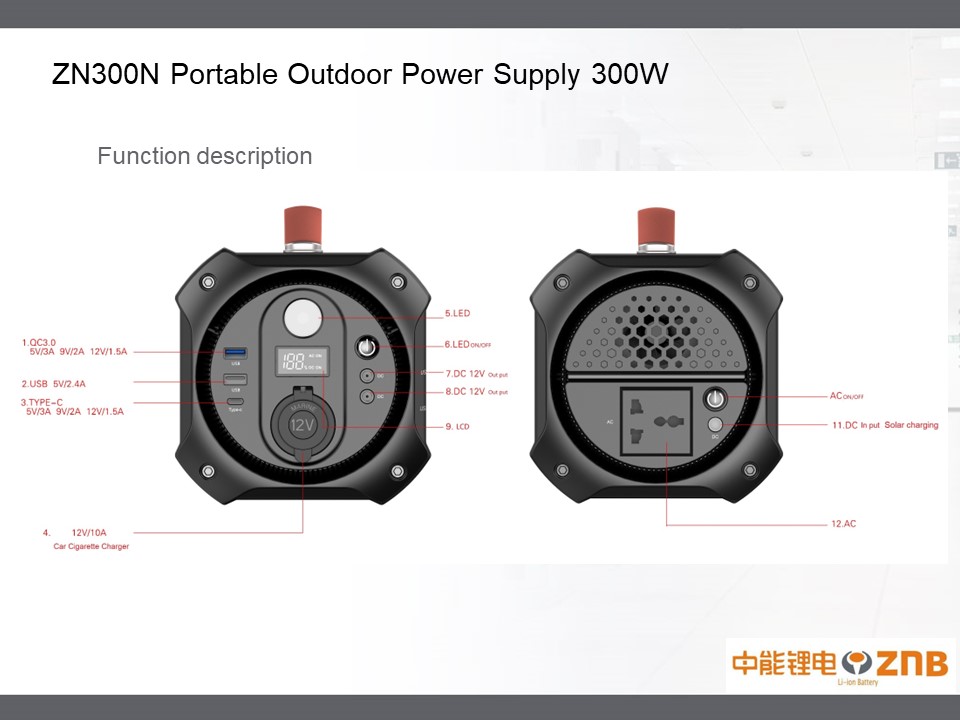 ZN300N Portable Outdoor Power Supply 300W
Warning and Cautions
1. If you do not use the product for a long time, please charge the product once every three to six months to prolong the battery life.
2. The device has a built-in non-removable battery. Do not try to remove the battery to avoid damaging the device.
3. When charging, the charger and the product will be accompanied by a slight heat, which is a normal phenomenon.
4. Keep the product away from fire, water and other liquids to prevent direct sun exposure.
5. Do not short-circuit the product, and do not store it with coins, jewelry, keys and other metal objects.
6. This product is built with high voltage. Non-professional personnel should not try to disassemble this product by themselves to avoid accidents.
7. After the battery life is over, do not throw the product away at will to avoid damaging the environment. Dispose of used batteries according to local laws and regulations.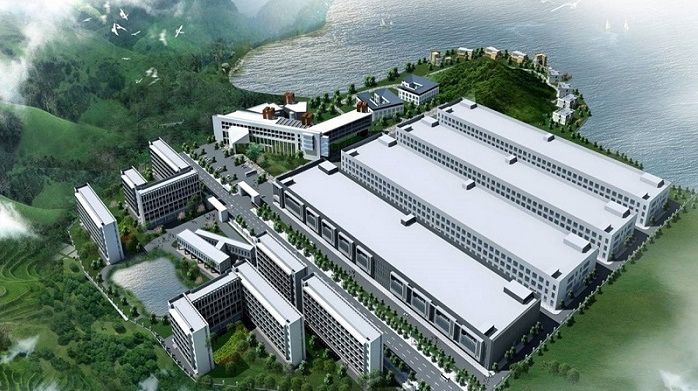 Xianning Times China Energy Li-ion Battery Co.,Ltd
Xianning Times China Energy Li-ion Battery Co.,Ltd.(ZnB) is a professional manufacturer whose business is related to the design, manufacturing and sales of lithium ion cells and battery packs since 2020. The company's batteries are widely used in Solar street light, Power tool, robot,Energy storage area,E-bike,E-scooter,Electric tricycle,and so on.
Due to strong R&D team support, Xianning Times China Energy Li-ion Battery Co.,Ltd provides its customers with different kinds qualified battery products from small capacity to large ones for various applications,all the batteries are designed and assembled with great attention to quality and safety.
Over the years development, under the good reputation,the company's batteries regularly export to many countries,such as USA,Japan,Indonesia,Mexico, Panama,Turkey,Spain,India and so on.Some batteries have done the certificate according to the customers request,like UL,CE,PSE,BIS,MSDS.
Based on the "People-oriented" management concept, "Let's grow together" corporate culture, and "Do better for you" quality policy , our enterprise committed to promoting the new energy development of China.
Please feel free to give your inquiry in the form below. We will reply you in 24 hours.